Last Updated on September 6, 2023 by Tim Wells
One of the features in Plex I use most often is Collections, but it's often overlooked by new users. They're an incredible way to help you organize and group all your media.
Whether music, TV shows, or movies, Plex collections make finding movies with a specific actor, theme, or even a particular resolution easy.
So when you want to watch something, you spend less time searching and more time watching.
However, getting started with collections and creating ones that take your Plex library to the next level can be challenging.
This guide is here to help get you started.
---
What are Plex Collections?
Collections give you an easy way to keep your Plex library organized as it grows.
How is this better than just using the Plex library?
Think about it this way. Your Plex library contains every title you own.
As your library grows, it quickly gets overwhelming if there's no other method to organize it. Collections can break down your library into smaller, more manageable chunks and better arrange your media.
It's similar to using a watchlist with your favorite streaming service. With so many movies and TV shows we want to watch or listen to, choosing something to watch can become too much effort.
It can also be hard to track what we've already watched and what we haven't.
Whether you want to organize by movie franchise or genre, using collections makes it easy to enjoy your content.
Plex Collections vs. Playlists
I'm often asked what the difference is between a collection and a playlist in Plex. They both serve the same purpose, but the difference comes down to who has access to it.
When you create a playlist in Plex, it's unique to the current user. If you share your library with someone else, they won't be able to see that playlist.
However, when you create a Plex collection, you're making it at the library level.
Anyone you share your library with will be able to see the collection as well.
---
How to Make Your First Plex Collection
It may seem confusing at first, but Plex makes it easy to set up collections. You can make a new collection using a filter or adding titles individually.
This section will first cover setting up a manual Plex collection using both methods before moving on to Smart Collections in the following sections.
I use manual collections for almost everything on my Plex server. They're a bit more work to maintain, but they give me more flexibility in organizing them.
The basic concepts are the same for both manual and smart collections. However, there are some critical differences in how they work after you've created them.
You'll configure collections using the web interface, no matter what device you use as your Plex server.
In this example, I'm using my 2017 NVIDIA Shield Pro as my Plex media server and accessing it through my Firefox browser.
Create Plex Collection with Filters
Start off in your Movies Library. By default, Plex will show you an alphabetical listing of every movie in your library.
In the window's upper-left corner, click on the arrow next to 'All.'
This drop-down menu lets us filter our library by criteria like title, year, genre, actor, or whether we've watched it already.
Scroll to the bottom of that drop-down box and click on Advanced Filters.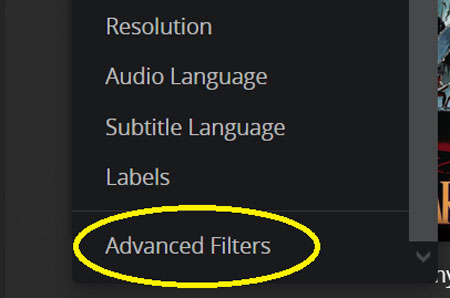 This opens up a more expansive search bar at the top of the library window, where you can add one or more advanced filters.
For this example, I will make a collection of all of the Star Wars movies in my Plex library. The easiest way to find them is by creating a filter where the movie title contains the words 'Star Wars.'
This may differ depending on how you name the movies in your Plex library.
The bottom half of the screen will automatically update to show you the results as you start typing.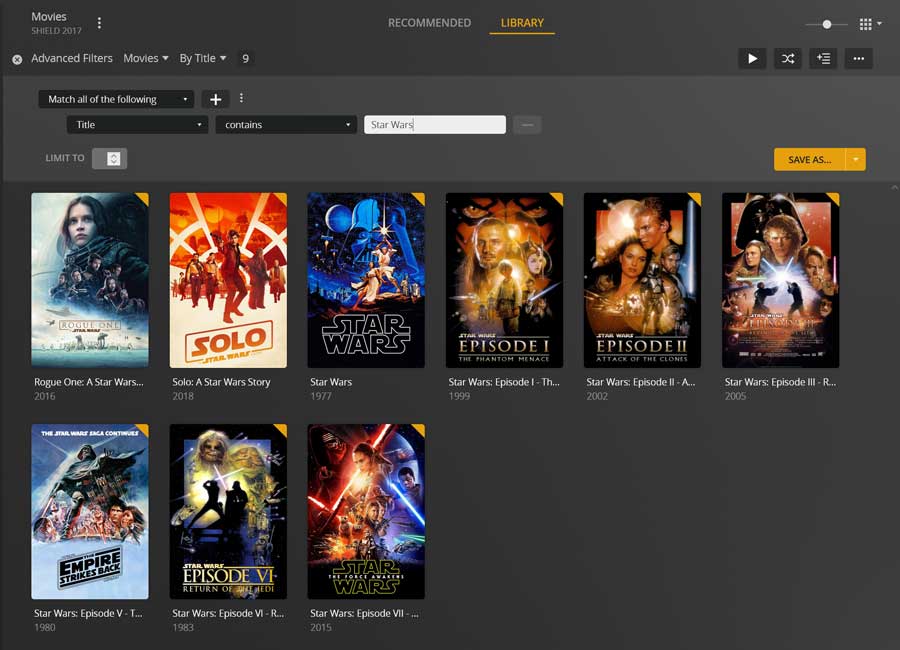 Don't worry at this stage if you don't get all the results you're expecting.
In the next section, I'll show you how to manually add movies to an existing collection.
Next, click the 'Save As' button in the upper right-hand corner of the window.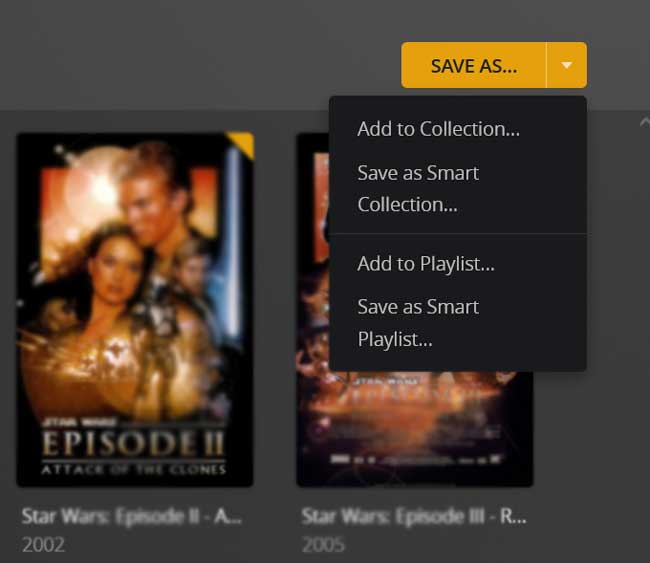 Select Add to Collection.
Once you give your first Plex collection a name, you see an overview screen showing all its titles.
This works the same for movie collections and TV show collections.
Plex Collections with Both Movies and TV Shows
What if you want a single collection with both movies and TV shows?
Plex lets you do that.
You need to create two separate collections: one in your Movies library and the other in your TV Shows library. Both collections need to have the exact same name.
Keeping the same example, I have Star Wars movies and the Rebels TV show in my library. So I created another Star Wars filter in my TV Shows library for the Rebels series and any future TV shows I purchase.
As long as the collections have the same name, you'll see the content for both whenever you look at one.
In this image, I'm looking at my Star Wars collection in my Movies library. The TV show, Rebels, appears at the bottom after all the movies.
This is reversed if I look at my TV Shows library collection.
Manually Add Movies to a Plex Collection
Sometimes you can't create a filter encompassing all the movies you want. Or, somewhere down the road, you buy another movie that fits an existing collection.
What happens, then?
That's when you manually add individual titles to a collection.
I will create a Plex collection for all of my James Bond movies in this example. This is still a manual collection, but no single filter will show them all.
My movies don't all have 'James Bond' in the title, and searching for each actor would also return other movies.
If you hover over a movie in your Plex library, you'll see three vertical dots in the lower right-hand corner of the image.
Clicking on that pulls up a context menu, as you see below.
Click on Add to Collection.
You can choose a collection you've been working with recently or create a new collection.
This menu also appears on a movie's pre-play screen.
Adding titles to a collection can be tedious, but sometimes it's the only way to create the collection properly.
I use manual collections for almost all my Plex media. Still, there are times when the most important thing is for new media to be added to the collection automatically.
That's when I create a Smart Collection.
---
Plex Smart Collections: Update Your Collections Automatically
Smart collections, like regular collections, group media into smaller categories.
What makes smart collections more useful is they will dynamically organize collections for you. 
I use smart collections to organize my Plex movie library's 4K and HDR content. When I purchase a new 4K movie, it's automatically added to the collection.
They're also a great way to group any unwatched media in your library.
To start, return to your Movies Library, and create an Advanced Filter, as we did before.
Note: Although you can filter for HDR movies in the drop-down menu, that won't allow you to add the movies to a collection. You need to create an Advanced Filter, as shown below.
To create a 4K Smart Collection in Plex, filter for 'Resolution is 4K,' as shown below.
Then click the 'Save As' menu and select Save as Smart Collection.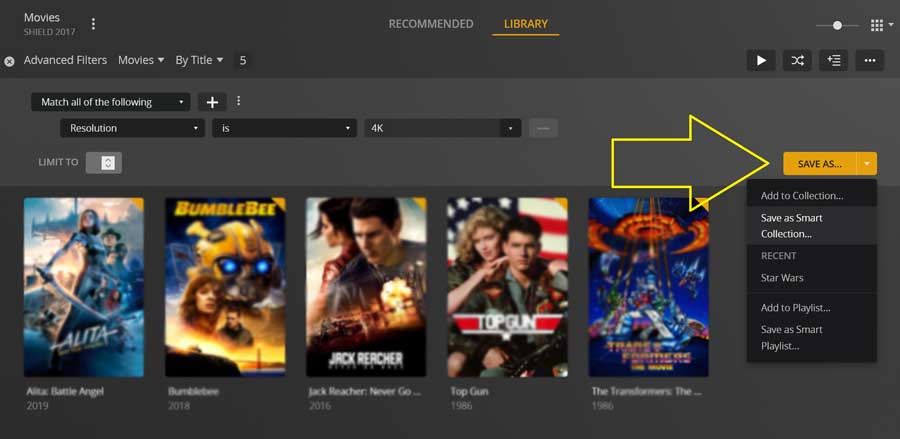 Name your Smart Plex Collection as before.

Once you give your Smart Plex Collection a name, you see an overview screen showing all its titles.
This works the same for movie collections and TV show collections.
Plex will use those search criteria to dynamically add new titles to the smart collection.
Anything that no longer fits the criteria of that collection will be removed.
---
Customizing Plex Collections
Once you've created your first collection, you'll see a new top-level Collections menu in your library.
There you'll see all of your collections in one place.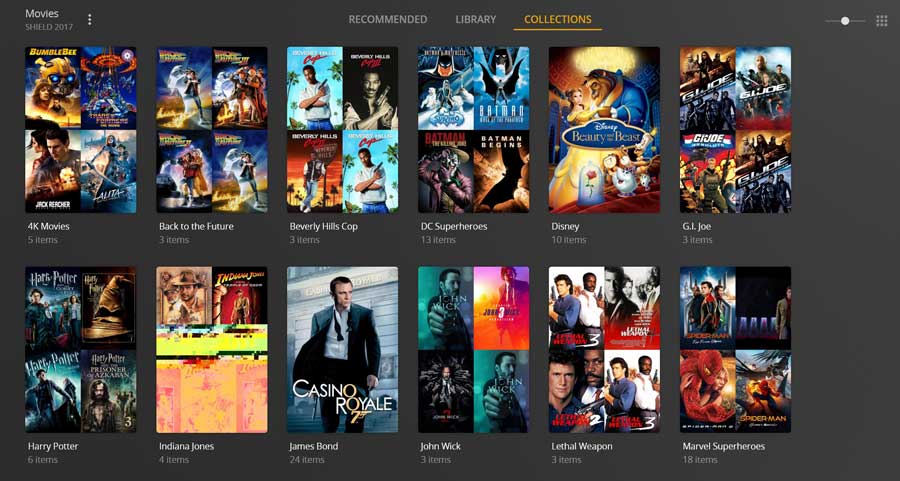 From here, there are some other things you can do to customize them and clean up your library even more.
Plex collections are versatile, allowing you to focus on enjoying your content. 
Hide Movie Titles in a Plex Collection
You may have noticed that the collection and the individual movies appear in your Plex library.
In some cases, this is a good thing.
Most times, it adds more clutter than we want.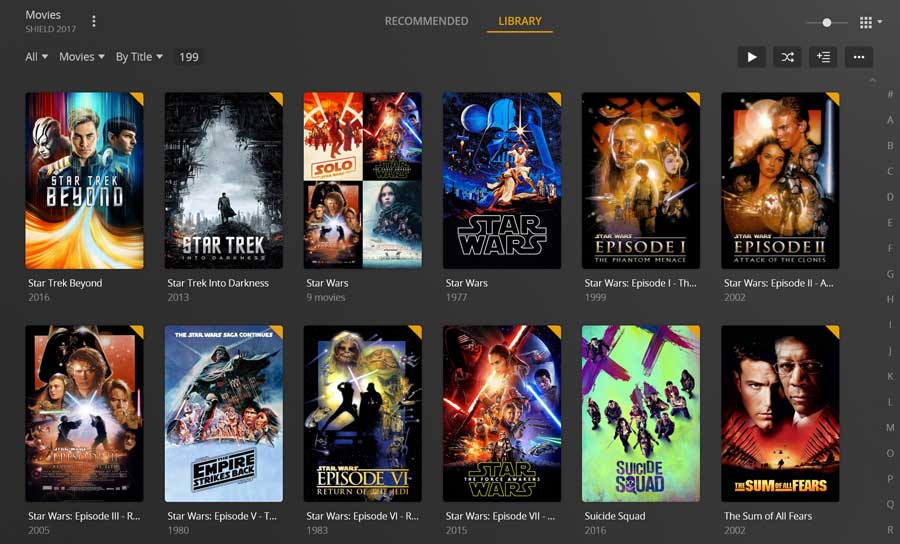 Thankfully, Plex lets us choose whether to show individual titles in a collection or hide them from your library view.
Click on the pencil icon in the lower-left corner of a collection poster to open its settings menu.
Then click on the Advanced tab.
Next to Collection Mode is a drop-down menu with four options that control this setting. I'll explain each one below, but not in the order listed.
Show this Collection and Its Items: This is the default view you see above. The library shows both the Star Wars collection and individual titles.
Hide Items in this Collection: This will hide all the individual titles and only show the collection itself.
Library Default: Each library has a similar setting that you can change to affect all collections you create. Unless you change the setting at the collection level, they'll default to whatever the library is set to.
Hide Collection: This allows you to create a collection that only appears on the Collections tab but not the main Library view.
I recommend setting collections to 'Hide Items in this Collection.'
If I create a collection for my 4K or HDR titles, I set those to 'Show this Collection and Its Items.'
Organize the Titles Within a Collection
You can change the order of titles within a manual collection. Unfortunately, Smart Collections don't support this feature since they're managed dynamically.
There are two ways to change the Collection Order: from the Collection page or the Edit Collection menu.
We'll start there since we were just in the Edit Collection menu.
On the Advanced tab, you'll see the Collection Order drop-down menu.
Here you can automatically sort titles alphabetically or by release date.
This works for most collections.
However, some franchises have released prequel movies for popular characters that take place before the main story.
We see this with the Harry Potter franchise, the Marvel Cinematic Universe, and Star Wars.
For cases like those, Plex lets you manually organize a collection.
Drag and drop the titles in whatever order you like from the detail page of the collection.
In this image, I've ordered my Star Wars films based on their in-universe timeline.
However, I could have just as easily put them in order of favorite to least favorite.
When you manually re-organize the titles, the 'collection order' in the Edit Collection menu will change to 'custom.'
Change Collection Posters
Like anything else in your Plex library, collections have a poster to represent them. The default poster incorporates 4 images from the various movies or TV shows inside it.
However, you can change this to a custom image that better describes the collection.
In the Edit Collection menu, click on the Poster.
Here you can upload an image from your PC by drag-and-dropping it into the menu directly or by clicking on choose an image, which opens a file menu.
Alternatively, you can specify the URL of an image online, and Plex will use that for the collection poster.
Deleting Collections
Our interests can change as time passes, especially the movies and TV shows we watch. Plex also lets us delete collections that we don't use anymore.
Deleting a Plex collection will not affect its contents. The movies, music, or TV shows will remain in your library.
The most straightforward way to delete a Plex collection is on the collection detail page.
Click on the three buttons, and a contextual menu will pop up.
Click Delete to remove the collection.
Plex also gives us the ability to delete multiple collections at once.
On the Collections tab, click the checkbox in the upper left-hand corner of the collection poster to select it. Once you've chosen the collections you want, click on the three buttons to open a contextual menu.
Then click Delete.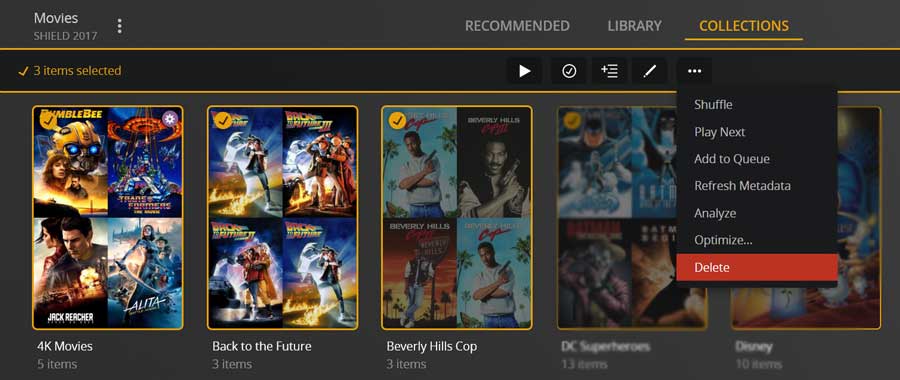 If you're not ready to delete a collection, you can remove all the content and leave it empty.
That allows you to keep adding content later without starting over.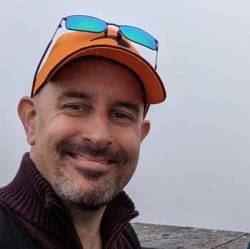 Latest posts by Tim Wells
(see all)