The NVIDIA Shield has been on the market for a long time, so you'd think there would be more options to stand it up or mount it to your wall behind your TV.
But I can count every stand and wall mount for the Shield TV on a single hand!
In fact…I own most of them.
I have one of each version of NVIDIA Shield: a 2015 Shield Pro, a 2017 Shield TV, and a 2019 Shield TV "Tube."
Unfortunately, no stand or mount options exist for the 2019 NVIDIA Shield TV "Tube."
However, in this article, we will look at every stand and mount in detail. I'll tell you how I use it, or even if I use it. Then I'll recommend the best stand and wall mount for the NVIDIA Shield TV.
For more great articles like this, visit my NVIDIA Shield TV resource page. You'll find all of my tips, tricks, reviews, and tutorials to help you get the most out of your NVIDIA Shield.
---
Official NVIDIA Shield Stand
We'll start by looking at the official NVIDIA Shield TV stand, and I can easily see why this stand is in such high demand.
It's built from rubberized plastic, which adds just the right amount of texture and grip to the sides. The matte black finish was great at repelling fingerprints and smudges, unlike the mirror finishes on the Shield TV itself.
The bottom of the stand is metal, making it heavy enough to not slide around.
Although the base feels like it should be magnetic, it didn't stick to any metal surface in my house.
Once you slide your Shield TV in, it fits flush with the edges of the stand. There's a slight panel gap, but you need to be extremely close to it to notice.
Personally, I prefer wall-mounting my NVIDIA Shield instead of using a stand, but the official stand is exceptionally well-built.
If you can find it, I highly recommend it.
---
3D Printed NVIDIA Shield Stand
The official NVIDIA Shield TV stands are getting harder and harder to find, so I was excited to try a 3D-printed stand. You can find several versions on sites like Etsy, Yeggi, and Thingiverse.
I found a second-generation stand designed for the 2017 Shield and 2019 Shield Pro for around $10 on eBay.
Unfortunately, the price was the only good thing about this particular stand.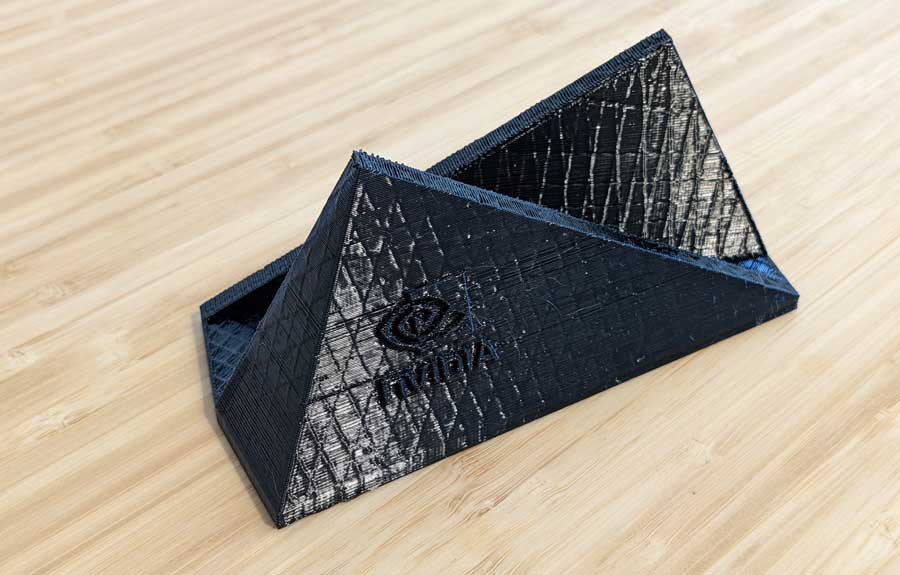 First, it wasn't for the 2017 & 2019 Shield TV at all. This was obviously an older design that they hadn't updated in years.
The good news was that it fit my 2015 Shield TV perfectly, but that wasn't what I ordered.
Worse yet, the build quality was horrible. As much as I like the idea of 3D printing, it's not ready for prime time yet.
The stand felt flimsy and had hard, jagged edges on nearly every corner. The NVIDIA logo was a nice added touch.
Still, it looked so sloppy that it made reading on the glossy plastic surface difficult.
---
Official NVIDIA Shield Stand vs 3D Printed Stand
When you put them next to each other, the difference between the official NVIDIA Shield TV stand and the 3D printed stand is like night and day.
I probably wouldn't be so hard on the 3D-printed version if I'd never seen the official Shield TV stand.
The rough edges and glossy plastic are distracting, but nothing that can't be fixed with some sandpaper.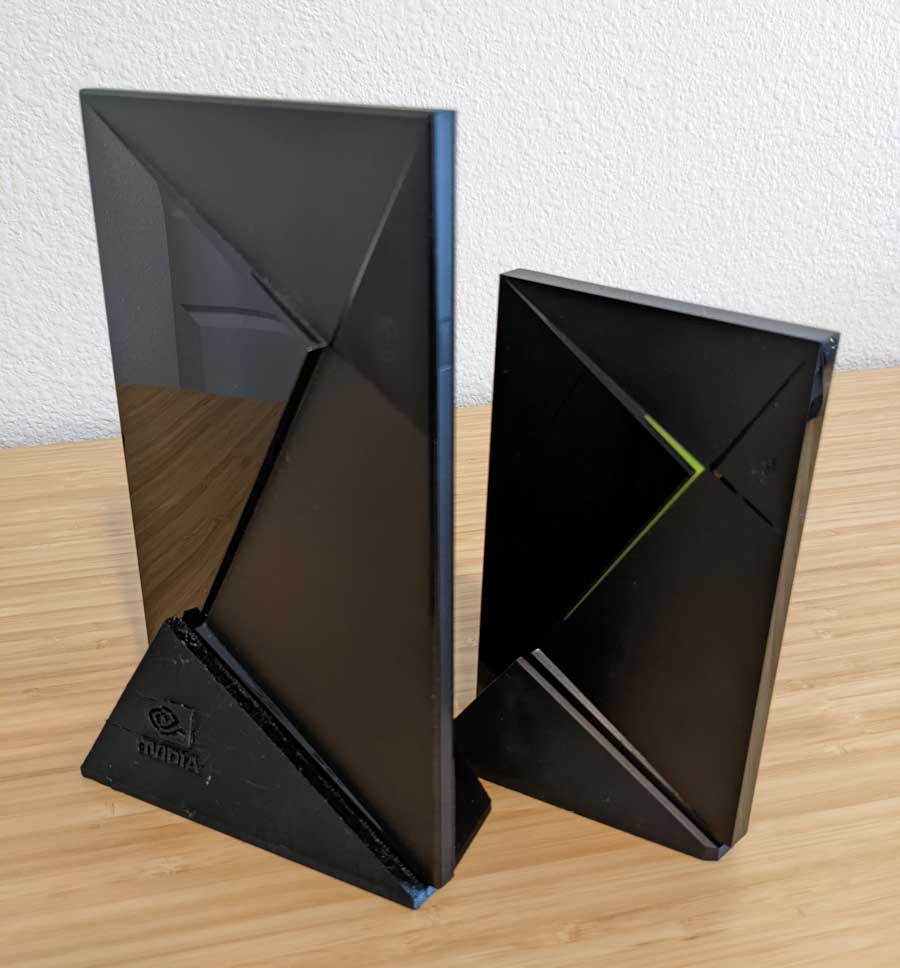 But side-by-side, it's easy to see why the official Shield TV stand costs more.
Simply put, it's much better built, more durable, and blends in with the overall design of the Shield TV.
---
NVIDIA SHIELD TV Stand
Fits 2017 Shield TV & 2017/2019 Shield Pro
Does not fit 2015 Shield TV or 2019 Shield TV "Tube"
Built with a matching design and custom fit
We earn a commission if you click this link and make a purchase at no additional cost to you.
---
HIDEit NVIDIA Shield Wall-Mount
Let me say this is my second HIDEit wall mount, and I love them!
I bought my original HIDEit mount for my 2015 NVIDIA Shield to hide it (pun intended) behind my TV downstairs.
I recently purchased the new version, designed for the smaller 2017 Shield and 2019 Shield Pro.
What impressed me most about it was its design.
It's a simple, single-piece of 16-gauge steel, powder-coated to add durability and help it prevent corrosion. The steel is then folded to fit snugly around your NVIDIA Shield while allowing access to all the ports and the rear ventilation.
There's no rubber molding or texture to add grip, so your Shield TV can move around slightly.
There are small tabs at the front of the mount, so your Shield TV won't slip out accidentally.
HIDEit Mounts NVIDIA Shield TV Pro Wall Mount
• VESA Compatible: 75mm (M4), single M6 hole.
• Complete access to ports and connectors.
• Made in the USA from 16-gauge, cold-rolled steel for durability.
• Black matte powder coat finish protects your Shield.
• Quick and easy to install. No measuring, no templates.
• Includes drywall screws and anchors. Stud mounting is optional.
We earn a commission if you click this link and make a purchase at no additional cost to you.
---
How to Install the HIDEit NVIDIA Shield Wall-Mount
Installing the HIDEit Shield2 mount is super easy.
As I did below, they allow you to mount directly into a wall stud or into drywall with the included drywall anchors.
Better yet, if you want, you can mount the HIDEit mount directly to your TV with a 100mm M4 or 200mm M6 VESA-compatible screw (also included).
I had already marked a wall stud behind my TV for my installation when I mounted it a few years ago.
From there, all I had to do was screw in the mount using a regular Phillips screwdriver.
In less than five minutes, my 2017 Shield TV was securely hidden away behind my TV.
---
Floating Grip NVIDIA Shield Wall-Mount
Floating Grip started in 2014 in Denmark. Like HIDEit, make custom mounts for various game consoles and streaming devices.
However, Floating Grip mounts use a combination of ropes mounted around pegs screwed into your walls to give your Shield TV the appearance of floating.
As odd as that sounds, I have to admit, it works pretty well, and I've never seen anything quite like it.
What sets them apart is the sheer number of customizing options you can add to your mount. After choosing a mount, you can add multi-color silicon covers, matching USB cables, and LED lighting to complete the look.
Being a Danish company, Floating Grip has a more significant presence in Europe than in the US. Unfortunately, I couldn't find the Shield TV mount on Amazon.
You can order the NVIDIA Shield wall mount directly through their official website for around 20 Euros plus shipping.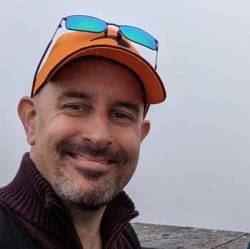 Latest posts by Tim Wells
(see all)