No matter what generation of Chromecast you have, you'll probably need to reset it to factory specs eventually.
Why?
Resetting puts the device back to the way it was when you first pulled it out of the box.
It's helpful for troubleshooting or adding it to a different home in your Google Home app. It's also good to reset your Chromecast before you sell it or throw it away.
Even though there's minimal storage space on a Chromecast, it still holds your Google account information until you reset it.
There are three ways to reset any Chromecast. Two of these methods will work on any generation of Chromecast, while the third is specific to the new Chromecast with Google TV.
Let's get started.
---
How to Hard Reset Any Chromecast
Works on: Chromecast 1st Gen., 2nd Gen., 3rd Gen., Chromecast Audio, Chromecast Ultra, Chromecast with Google TV
The easiest way to reset your Chromecast back to factory specs is to perform a hard reset. Every Chromecast version has a reset button, from the original 1st generation to the newest Chromecast with Google TV.
1. Make Sure Your Chromecast Has Power
No matter which version of Chromecast you have, they'll need to be plugged in to perform a hardware reset.
It doesn't need to be connected to your TV, however. Each Chromecast has a status indicator light that will flash when it starts.
2. Locate the Hardware Reset Button
Usually, this is an oval-shaped button found on the side of the device, close to the micro-USB power port. Here, you can see the reset button on this 3rd generation Chromecast.
On the new Chromecast with Google TV, the circular button is located on the bottom of the dongle.
3. Press and Hold the Reset Button
With your Chromecast plugged in, press and hold the reset button until the status light flashes.
For everything except the original Chromecast, this takes approximately 10 seconds. If you're still using a 1st generation Chromecast, you'll need to hold the button for about 25 seconds to start the reset process.
4. Wait Until the Status Light Stops Flashing
Once the reset process starts, you don't need to do anything else. Once the status indicator light stops flashing and turns solid, the reset is complete.
Note: After you factory reset your Chromecast with Google TV, the remote control may no longer work. Follow my tutorial on how to reset and pair the remote here.
---
How to Factory Reset Chromecast Using Google Home App
Works on: Chromecast 1st Gen., 2nd Gen., 3rd Gen., Chromecast Audio, Chromecast Ultra, Chromecast with Google TV
If you don't want to use the hardware reset we discussed above, or if your Chromecast is in another location, you can still reset your Chromecast using the Google Home app.
You can reset any Chromecast using the app.
However, it does require you to have previously added your Chromecast to a Home in the app, and it will not work if the Chromecast doesn't belong to a Home.
In this example, I've set up a new Home called 'Vacation Home' for my 3rd generation Chromecast. It's attached to my Den TV, and for this example, it's the only device in this Home.
1. Open the Google Home App and select your Home
2. Select your Chromecast
Select your Chromecast device to go to its detail page.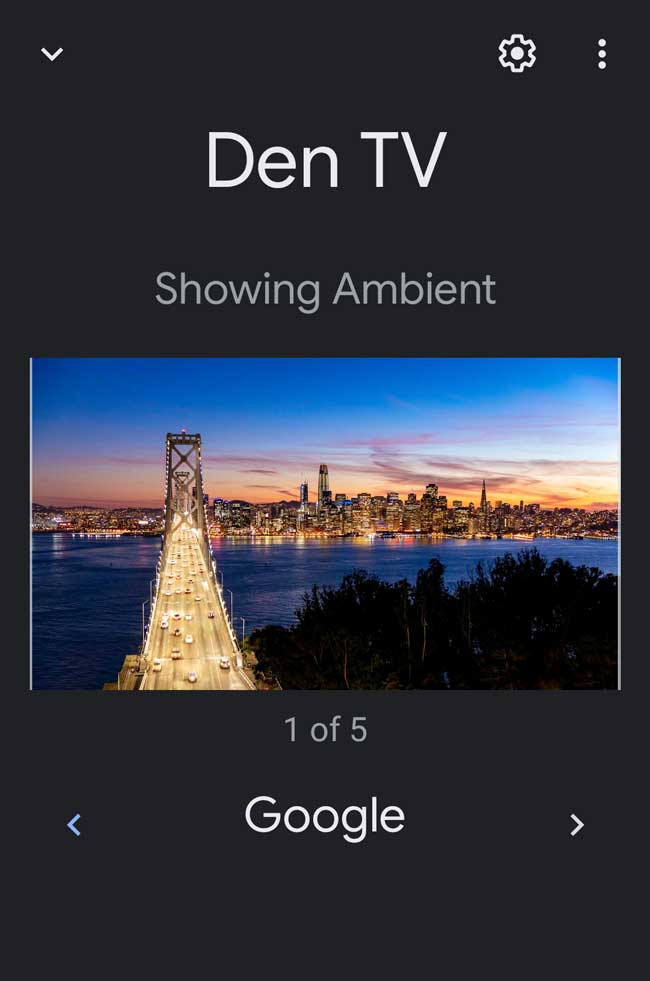 3. Open Settings
Next, click on the gear icon in the upper right-hand corner to go to the Settings page.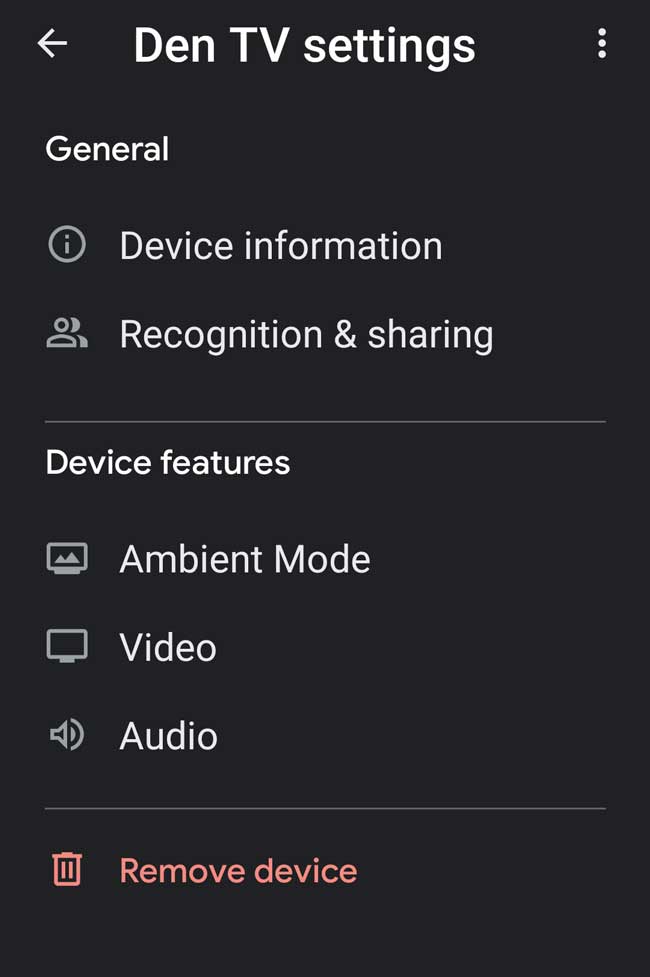 4. Click on the Three Vertical Dots
In the upper right-hand corner, you'll see three vertical dots. Clicking on them opens up a special context menu with four options: Reboot, Factory Reset, Help, and Feedback.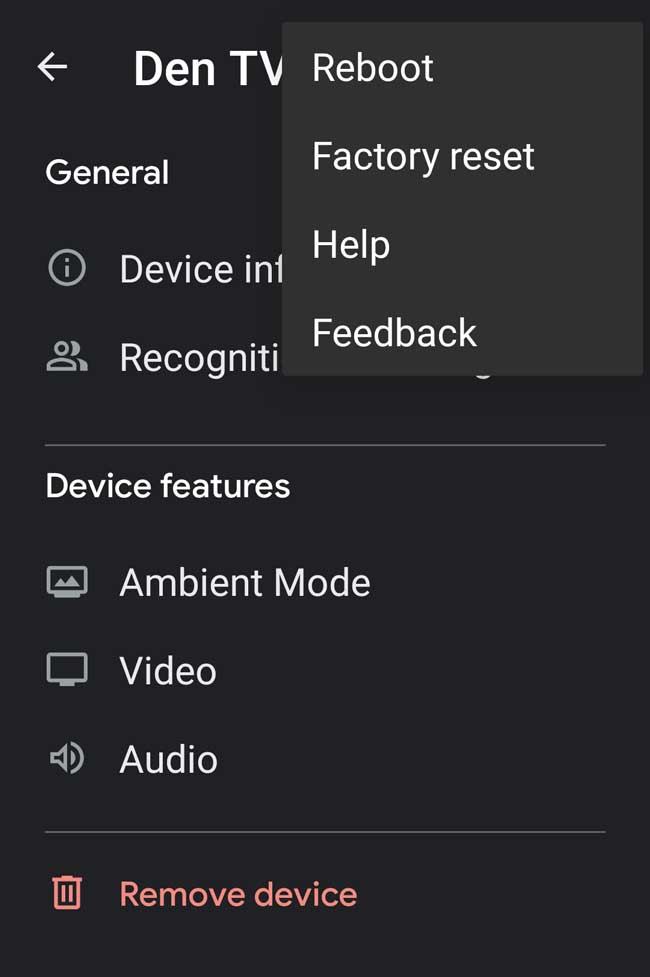 5. Select Factory Reset from the menu
A message box warns you that this is the point of no return.
Confirming the reset will restore your Chromecast to factory settings, remove it from any accounts, and remove it from your Google Home app.
6. Confirm Factory Reset
At this point, the reset process begins, and there's no additional action that you need to take.
Once it's finished, your Chromecast will reboot, and you'll need to go through the initial setup process again.
---
How to Reset Chromecast with Google TV
Works on: Chromecast with Google TV
Users of the new Chromecast with Google TV can reset it back to factory specs through the Android TV Settings menu. Even though Google TV is a modified skin on Android TV, many settings and processes will still work.
1. Click on Your Account Icon
In the upper right-hand corner of the screen, you'll see your Google account icon. If you've disconnected your Google account from your device (find out how here!), the settings icon will be there instead.
2. Click on the Settings Icon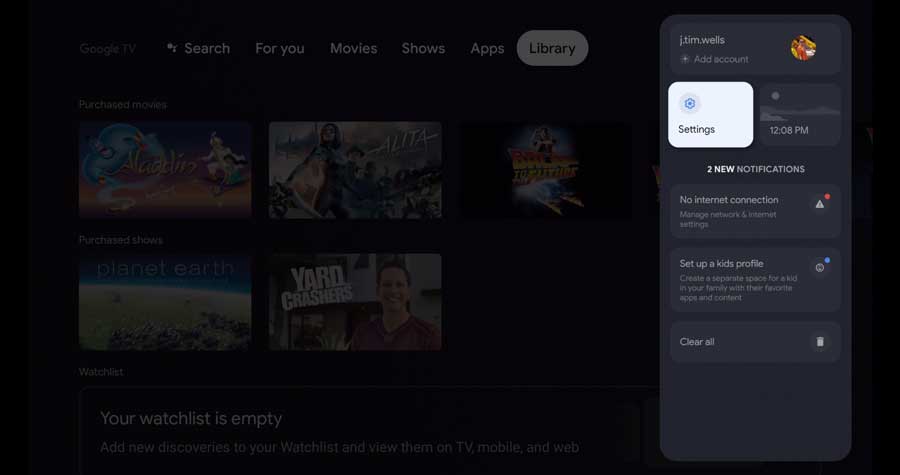 3. Click on the System menu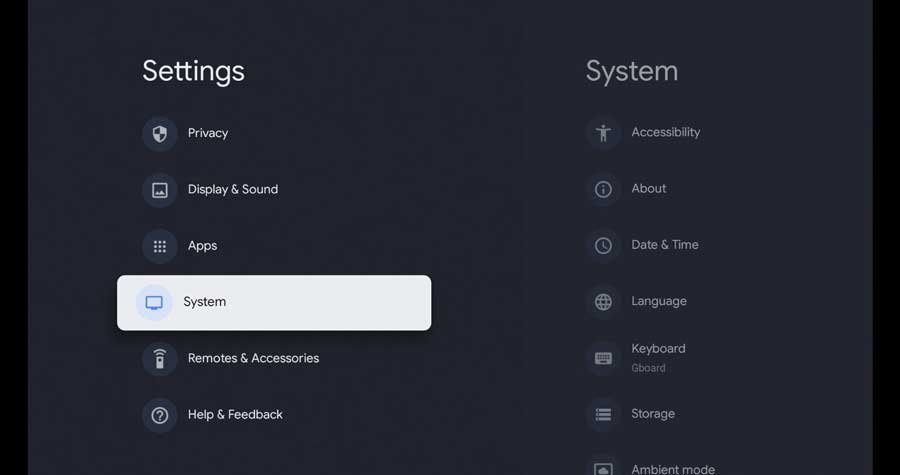 4. Click About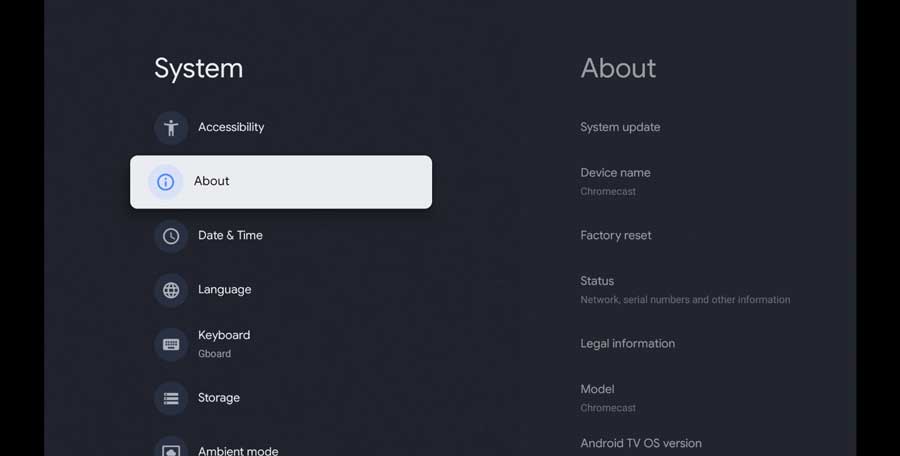 5. Click Factory Reset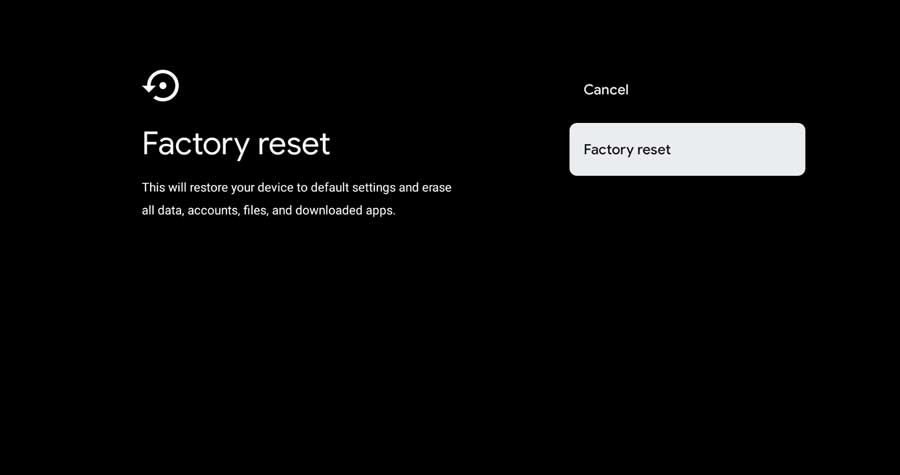 A confirmation screen will appear, giving you one final chance to cancel. Clicking Factory Reset here will reset your Chromecast and begin the reset process.
---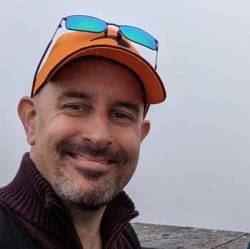 Latest posts by Tim Wells
(see all)