Looking for an upgrade to your NVIDIA Shield controller, or maybe just a new controller for your Android TV?
Since Android TV's can use both Bluetooth and wireless 2.4GHz gamepads, there's a seemingly endless list of controller options to choose from.
Many offer great designs, comfortable ergonomics and custom features. Plus, there's the official NVIDIA Shield TV remote, which isn't a bad option either.
I tested some of the most popular wireless 2.4GHz and Bluetooth gamepads for Android TV to help you find out which one is the best for you.
First, let's take a look at the official NVIDIA Shield TV controller, so we can see where we're trying to improve.
For more great articles like this, head on over to my NVIDIA Shield TV resource page. There you'll find all of my tips, tricks, reviews and tutorials to help you get the most out of your NVIDIA Shield.
---
Official NVIDIA Shield TV Controller
Even though it's the easiest controller to pair with your NVIDIA Shield, there are much better options out there.
The original NVIDIA Shield controller took it's design cues from the original Xbox controller. It was bulky and awkward, which made it exhausting to use for long play sessions. The new version, which came out in 2017, thankfully trimmed down the extra bulk to make it much more comfortable.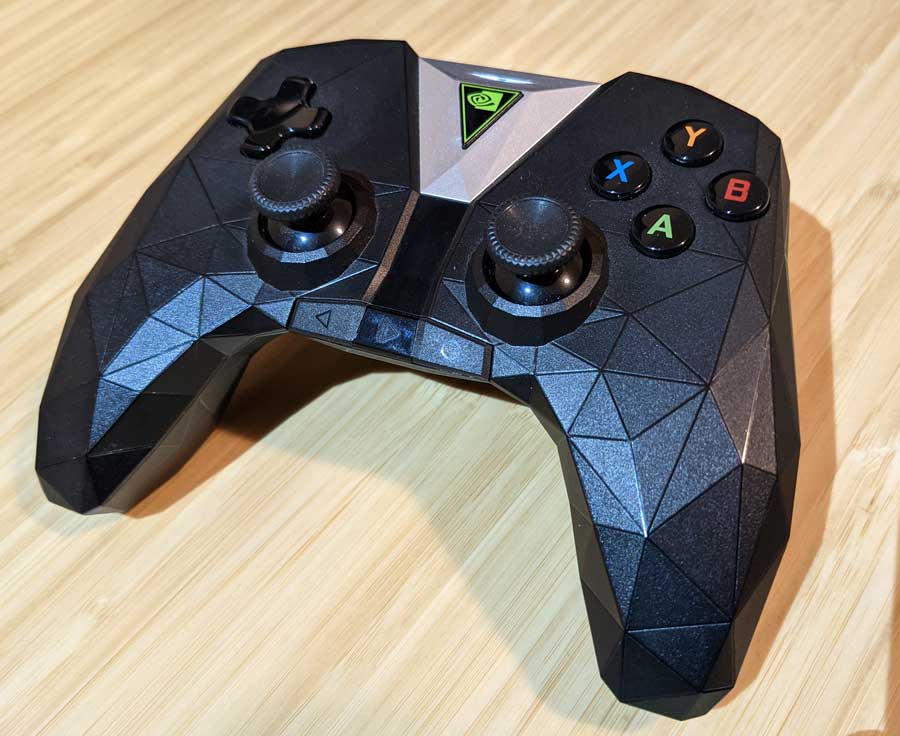 It might look strange, but the geometric design on the grips is actually really comfortable. Your hands grip around all those little contours and you don't even notice that they're there.
Cool looks aside, the analog sticks are somewhat flimsy and have too much play in them. Same goes for the triggers and bumpers.
Overall, the NVIDIA Shield TV gamepad is a workable solution in a pinch, but even casual gamers would do a lot better with an upgrade.
---
Best Bluetooth Gamepad Overall: Xbox Core Controller
For me, the Xbox One Core controller is easily the best Bluetooth gamepad for Android TV.
This latest version of the standard Xbox controller is an evolution, rather than a revolution. This design has been tweaked and refined over a last decade. Built with gamers in mind, it offers more than enough features to make it to the top of most people's list of the best wireless Bluetooth controllers.
It's compatible with NVIDIA Shield TV, Amazon FireStick, Windows PC, mobile devices, and, of course, your Xbox game system.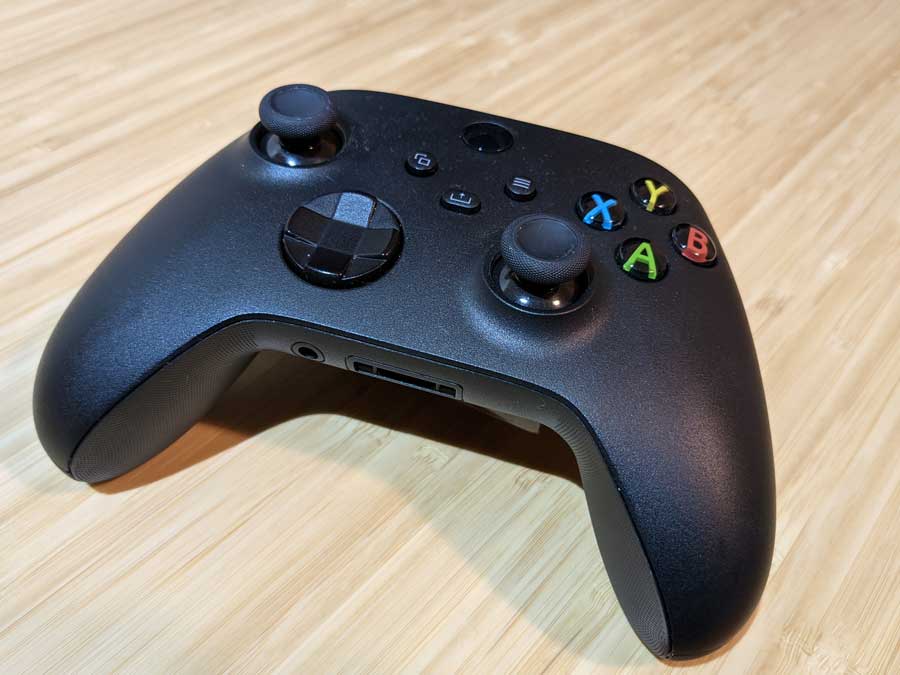 Xbox Core Controller: The Good
The first time I picked up the latest Xbox Core Wireless Controller, I immediately noticed the difference.
It was always a really comfortable controller to use. The button layout is exactly where you'd expect them to be. The triggers and bumpers are crisp and responsive, with just the right amount of resistance when you press them.
Everything you want is right within easy reach without contorting your hand or stretching to hit a button that should be closer.
The built-in headset jack on the controller lets you plug any 3.5mm set of headphones, or compatible wired gaming headset right into your wireless controller for easier talking with teammates and friends.
This new version added a subtle texture along the grip that helped keep it from slipping around in your hands.
But the biggest change, IMO, was the D-pad. This new hybrid D-pad is indented to fit the natural curve of your thumb, and feels so much smoother to use than previous models.
The Xbox Core Bluetooth controller is simply the best in class for wireless gamepads in this price range. To get similar quality and features, you'd generally be looking at spending $20-$30 more. If you want a perfect gaming experience without dealing with cables, this is the gamepad you need.
Xbox Core Controller: The Not-So Good
My biggest complaint about the Xbox controllers is that it doesn't include a built-in rechargeable battery. There's one available through Microsoft, for an additional fee, of course. But this is a premium Bluetooth gamepad and including it would simply be the best choice.
Beyond that, anything else I say here will be nitpicking. As much as I've liked previous versions of the Xbox controllers, this new version feels just about perfect to me.
Fans of more edgy, flashy controllers might not be fans of Microsoft's Xbox controller design. Sure there are custom color schemes for select games, and you can even go to Microsoft's design lab and create something truly unique. But the controller itself looks pretty plain.
If you are looking for something more stylish, then this controller might not be your best option.
Also, the controller is fairly heavy, so your arms might get a bit of a workout after long play sessions.
Our Top Pick
Xbox Core Wireless Controller – Carbon Black
Microsoft stepped up their game with the newest Xbox One controller. Better grip and a more comfortable D-pad give you the edge you need to win. Fully compatible with Android TV!
Buy Now
We earn a commission if you click this link and make a purchase at no additional cost to you.
08/08/2022 05:49 pm GMT
---
Runner Up: GameSir G4 Pro
The GameSir G4 Pro is an excellent Bluetooth game controller it's compatible with Android TV boxes and NVIDIA Shield TV. It also works as a full-sized Xbox One or PS controller on Windows PC (both USB wired and wireless), making your home console experience even better.
Best of all, the price is very affordable for such a quality game controller.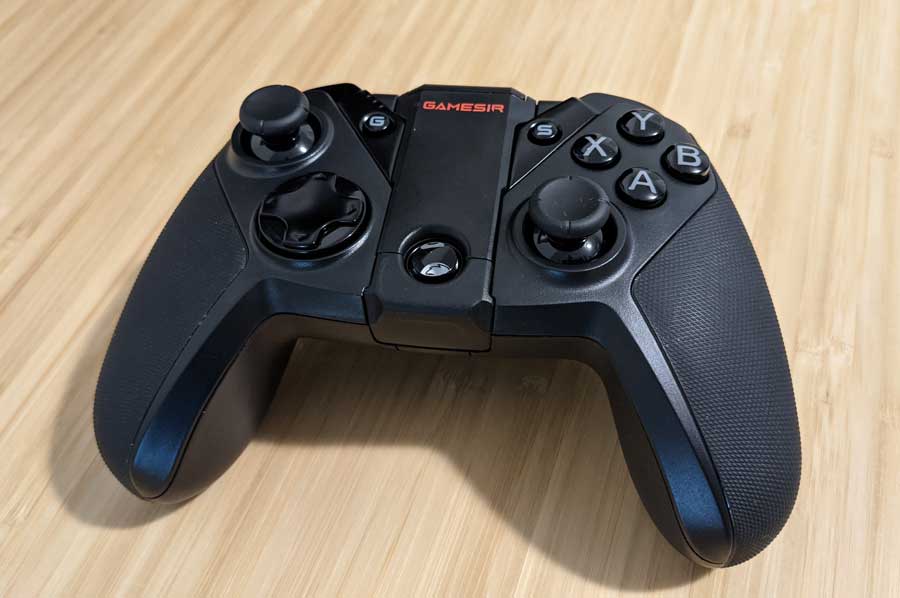 The GameSir G Series is an excellent option for those who want an affordable way to play Android TV box games with an actual gaming controller or use it as their PC gamepad. This will save you from having to buy two separate products.
This product offers tons of options for all gamers. You can play games in your living room next to friends who also have Android devices but don't want to carry around a controller or play games from your PC. You can even play with up to four players at the same time.
GameSir G4 Pro: The Good
As soon as you pick it up, it's easy to see why the GameSir G Series is one of the most popular Bluetooth game controllers on Amazon.
It's extremely comfortable to hold, with a very ergonomic design. The hand-grips are rubberized and give it a higher-end feel than a lot of other controllers I've tested. It's super comfortable, even for long play sessions.
The GameSir G4 Pro has dual motors for vibration feedback, which is great for racing games.
Additionally, a six-axis gyroscope was added to the GameSir G4 pro, allowing for motion control and more responsiveness to your motions.
It's a wireless Bluetooth controller with handle grip and air mouse functionality. It has a built-in lithium battery that lasts up to 20 hours per charge; a micro USB charging cable; and more.
The GameSir G Series is a versatile Bluetooth game controller that works with Android TV boxes, NVIDIA Shield TV, smartphones, Windows PC and Mac OS.
Best of all, it has better build quality than most other budget-friendly Bluetooth controllers. Picking it up, it feels on par with the Xbox One controller, which says a lot, coming from me.
GameSir G4 Pro: The Not So-Good
I have two complaints about the GameSir G4 Pro.
First, the controller feels small…even though it's not. Side-by-side, it's similar in size to the Xbox One Core Controller. However, the way the triggers are laid out, you have to stretch your index fingers in order to hit them.
In the heat of battle, that could mean the difference between reacting in time or needing to respawn.
Also, since it was designed for smartphones, the center of the GameSir G4 Pro flips up to hold your phone in place. That all makes sense.
What doesn't make sense is that GameSir decided to put the Turbo and Screenshot buttons under the center panel. That means if you're using the controller on another device, you can't get to those buttons unless you keep the center panel raised.
Since I don't see myself using either button very often, it's a minor detail. However, I can see it being a deal-breaker for some people.
GameSir G4 Pro Wireless Game Controller
Android Phone/Tablet/TV Box/iPhone/iPad/Apple TV/Windows PC. Supports Type-C USB Wired/ Bluetooth/ 2.4Ghz wifi connection. 3.5-6 inch Phone Holder.
One click Turbo function and Screenshot buttons
We earn a commission if you click this link and make a purchase at no additional cost to you.
---
Best Upgrade: Sony DualSense Controller
While the new Xbox Core controller is a subtle evolution of a great design, the Sony DualSense controller is a revolution that takes a fan-favorite game pad to the next level.
It offers vibration feedback via haptic technology with each button press. The layout of the buttons is exactly where you would expect them on the PS Vita or PlayStation Portable systems.
The controller layout remains more or less the same from later versions of the PS4 DualShock gamepad. The D-pad is still four directional arrows, rather than one circular pad. Also, the buttons are less bulky and blend into the clean design much better.
The Sony DualSense carries over the touchpad from the DualShock controller, which gives you another way to interact with the game. It also comes with a microphone for voice search and commands, which is great to use with Google Assistant or Amazon Alexa.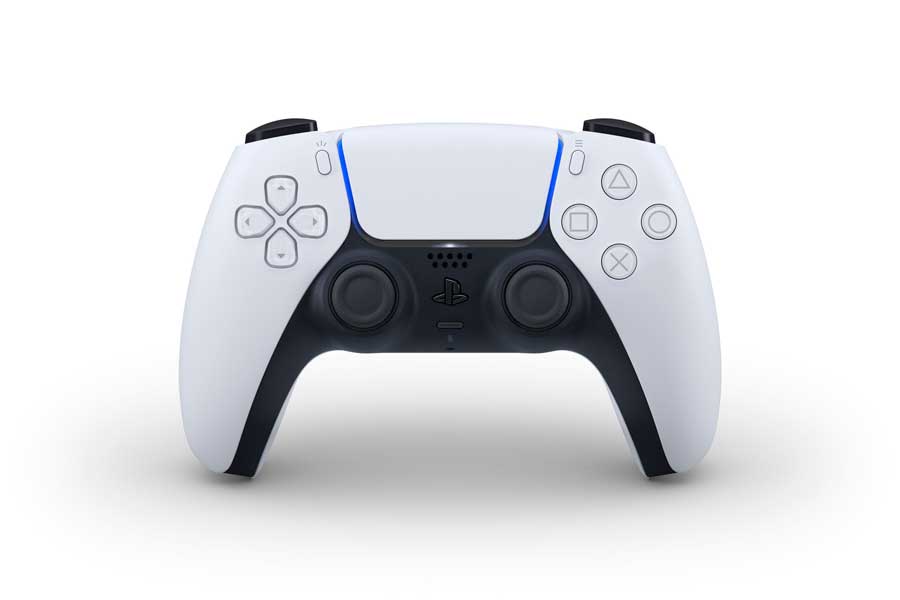 Sony DualSense Controller: The Good
The controller comes with haptic motion sensing and vibration feedback. So if you're the kind of gamer that physically leans into corners while you're driving, now that's actually going to transfer to the game itself. It's worth noting though, that support for that feature may be limited on Android games.
The gamepad has a rich feature set that includes motion controls and customization options such as vibration feedback levels. Its slim design with textured handles improves grip, while the touchpad on top makes it easy to navigate without removing your thumbs from the analog sticks.
The triggers were also redesigned to register how hard or how far you're pulling them. This adaptive trigger technology provides a lot more finesse to games, allowing for more than just an 'on\off' response.
This game controller features a dual analog stick design for greater control and accuracy. It is compatible with Android devices as well as the NVIDIA Shield TV.
The wireless Bluetooth connectivity allows you to play from up to 30 feet away from your device or television screen.
Finally, it includes a built-in rechargeable battery, capable of up to seven hours of battery life on a single charge.
Sony DualSense Controller: The Not-So Good
The Sony DualSense controller is a great, innovative design, but it's not cheap. At a retail price of $69.99, it's roughly $20 more than any other controller on this list.
While that may be worth it if you have a PS5, it's hard to justify that price tag if you're only gaming on your Android TV.
PlayStation 5 DualSense Wireless Controller
Haptic feedback - Feel physically responsive feedback to your in-game actions with dual actuators which replace traditional rumble motors.
Adaptive triggers - Experience varying levels of force and tension as you interact with your in-game gear and environments.
Built-in microphone and headset jack.
We earn a commission if you click this link and make a purchase at no additional cost to you.
---
Third Place: SteelSeries Stratus Duo
The SteelSeries Stratus Duo is one of the most popular gamepads for Android TV and the NVIDIA Shield TV. But I have to confess, I thought there were much better options for the money.
It has an ergonomic design that feels a lot like the Xbox controllers I grew up with, but with a twist. The SteelSeries Stratus Duo has excellent build quality and is comfortable to hold for hours while gaming.
It allows you to play wirelessly either via Bluetooth or the included 2.4 GHz USB adapter, or via the USB-C cable when your battery runs out.
Unlike most controllers, the analog sticks are both placed side-by-side, like the Sony PlayStation and NVIDIA Shield controllers.
Shifting the left analog stick to be in-line with the right stick helps with the ergonomics and comfort. However, it does take some getting used to, if you're an Xbox gamer like I am.
This controller comes in a basic black color scheme, and lacks most of the flair and accents that other controllers have. It's compatible with Windows, Chromebooks, Steam and Android games.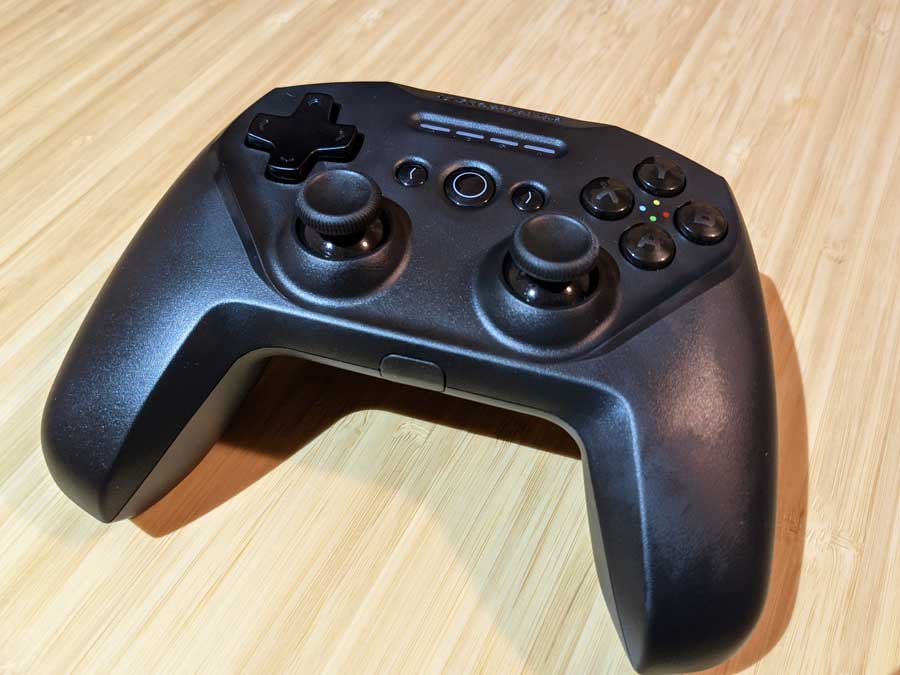 SteelSeries Stratus Duo: The Good
The Stratus Duo controller comes with a rechargeable battery with over 20 hours of playtime, and there are voice prompts for pairing, power status, and more.
The biggest improvement on the Stratus Duo is a higher-end trigger mechanism that makes them much more responsive. For first-person shooters, your trigger finger really notices the difference.
I like that this controller gives you the option to plug in the USB-C cable and continue playing as a wired controller. Too many controllers force you to pause the action when your battery runs out. The USB cable even charges the gamepad while you're using it, so you have the option to go wireless again after a quick recharge.
Overall, the SteelSeries Stratus Duo is a solid, feature-packed, rechargeable game controller that allows you to play your favorite games on Android TV & NVIDIA Shield.
SteelSeries Stratus Duo: The Not-So Good
There were a couple of things that I didn't like about the SteelSeries Stratus Duo, however.
The analog stick layout takes some getting used to, and, to be honest, I'm not sure I ever did. They're comfortable, sure. For me, though, one of the reasons I wanted to upgrade my NVIDIA Shield controller was to get to a more familiar layout with the analog sticks.
I appreciated the basic-black color scheme. Personally, I've never been a fan of RBG lighting or crazy colors. I just want a solid, durable device, and this definitely fits the bill.
However, there are no creature comforts on this controller. There's no padding on the grips, and the controller tends to slide around in my hands. It feels solid, but somehow cheap at the same time. I think some sort of accent color, or different textures would go a long way to making the SteelSeries Stratus Duo feel more high-end.
It's a great controller, and plays really well. It just doesn't feel like it quite justifies the price-tag.
SteelSeries Stratus Duo Wireless Gaming Controller
Fortnite Ready on Android – A true console experience on Android mobile with software free setup. Just pair and play
2.4 GHz Wireless – Lag free gaming on Windows and over 5,000 controller enabled titles on steam
Bluetooth Wireless: Easily pair with Oculus Go, Gear VR, Android mobile devices, and more
Rechargeable battery: 20+ hours of nonstop use, as well as the ability to play while charging
We earn a commission if you click this link and make a purchase at no additional cost to you.
---
If Money Is No Object: Razer Raiju Mobile
The Razer Raiju Mobile controller is an excellent option for those who want to play their mobile games with a gamepad and are not bothered by its price.
The game controller is compatible with the NVIDIA Shield TV box, Amazon Fire TV stick and other Android media players that support OTG or Bluetooth connectivity. It also works on Windows PC and Mac OS X computers when connected via micro USB cable.
This gamepad includes an app that allows you to fully customize your controller's settings, layout, macros, remapping, etc. The Android/iOS app also includes several games optimized for the device, including thousands already in the library.
Key Features of the Razer Raiju Mobile
The Razer Raiju mobile gaming controller looks sleek and has four customizable buttons that can be used as shortcuts. This keeps important features, such as home, back, volume controls, and your favorite app button, all on the touchpad.
The four remappable multi-function buttons can be mapped to any key or mouse function, for example, LMB/RMB.
It has a superior build quality with Razer Chroma backlighting and two extra triggers for fast access to actions.
The Razer Raiju mobile gaming controller charges via USB C and provides up to 27 hours of playtime on a single charge.
Easy Bluetooth pairing is enabled with Android devices via the Razer Raiju Mobile app. Pairing is done by entering a code displayed on the controller's touchpad to your smartphone or tablet and pressing connect in the mobile application. This allows you to share control of your game between two paired phones/tablets, allowing for multiplayer gaming sessions without buying another controller.
Benefits of the Razer Raiju Mobile
The Razer Raiju mobile gaming controller offers a great experience for gamers looking for more than just mobile games. It has a built-in phone mount for your mobile and allows you to switch between the touchpad or analog stick controls.
Razer Chroma customizable lighting with 16 million color options and effects provides a personal experience to the already impressive features of the game controller.