A Chromecast device is a convenient way of streaming content to a TV, but you can't use it without Wi-Fi. 
Or can you?
Here are three different methods you can use to cast content to Chromecast without Wi-Fi.
---
Method #1: Guest Mode
Guest mode is a built-in feature that allows users to send content to a Chromecast device without connecting to your Wi-Fi network. It's convenient if you don't want to share your Wi-Fi password.
However, you can also use the guest mode if your Wi-Fi connection is down.
Using guest mode is easy, but you'll have to enable it first. It works using the built-in Wi-Fi and Bluetooth beacon in your Chromecast device.
When a device is near this beacon, it can connect to it and cast content to your Chromecast. It's a quick and easy way of streaming content. There is an additional layer of security thanks to a four-digit PIN.
However, it will only work if you're sending content from a device on the same network as your Chromecast.
How To Enable Guest Mode
You'll have to enable the guest mode on your Chromecast or TV with built-in Chromecast first:
You'll need a phone, tablet, or computer with the Google Home app.
Log into the same Google account as the one you use for your Chromecast.
Open the Google Home app and go to Settings.
Tap Recognition and Sharing.
Look for Guest Mode. You should see a blue switch that you can toggle on or off.
Next, you'll need to get your four-digit PIN. You can see this PIN at the bottom of the screen when your Chromecast TV goes into ambient mode.
You can also find the PIN by opening the Google Home app and going to Settings. Select Recognition and Sharing and navigate to Guest Mode. You'll find the PIN underneath the toggle switch.
Note that the PIN resets automatically every 24 hours or if you turn the Chromecast off.
Once you have enabled guest mode on your Chromecast and found the PIN, you'll need to activate guest mode on the device you want to use for casting:
You'll need an Android phone or tablet.
Open the Settings app and look for Google.
Tab Device Connections and then Cast Options.
You'll see a Guest Mode option. Select it.
Your phone or tablet will take you to a new screen where you can turn on the Guest Mode.
Note that guest mode will stay active for two hours. You'll have to access your settings and activate it again.
Now that you have activated guest mode on your Chromecast and on the device you want to use for casting, you can start streaming content without Wi-Fi:
Open an app that supports casting. Examples include YouTube, Spotify, Netflix, and more.
Look for the cast button within the app. It will typically appear in the top right corner of your screen. It looks like a TV screen with a Wi-Fi signal on it. You might have to start playing a song or video to see this button.
Tap the Cast button and choose Nearby Device.
Your phone or tablet will prompt you for the four-digit PIN before sending the media to the Chromecast.
This method also works on iOS devices.
You'll need to enable Bluetooth on your iOS device and download the Google Home app. However, not all iOS apps support the guest mode when casting content to a Chromecast.
---
Method #2: Ethernet Adapter
If you don't have access to a reliable Wi-Fi signal, an Ethernet adapter is a great alternative.
An Ethernet cable creates a physical connection between a device like your computer and your router. It often results in faster speeds and can be more reliable than a Wi-Fi connection.
However, because Chromecast dongles don't come with Ethernet ports, you need to use an adapter. You can find Ethernet adapters that use a USB port to connect to your Chromecast device.
How to Set Up Your Ethernet Adapter
Setting up an Ethernet adapter is easy, and it's a great option if you have a slow Wi-Fi connection or don't get good reception.
You'll have to purchase an Ethernet adapter compatible with your Chromecast device. Google offers adapters, but you can also find third-party products.
It's essential to determine which Chromecast generation you have. The adapters for the newer Chromecast with Google TV devices are different from the ones you can use with the 3rd generation and older Chromecast devices.
Once you've found a suitable adapter, you'll have to follow a few simple steps to set it up:
Your Chromecast has a Micro-USB port for the power supply. The new adapter will provide the Chromecast with power and a connection.
The adapter has two ports, one for the USB cable and another for the Ethernet connection. Run an Ethernet cable from the adapter to your router.
You should find several Ethernet or LAN ports on your router. You can use any of these ports.
Plug the adapter into a power outlet.
Note that Ethernet cables have a tab on the top of the connector. If you need to disconnect an Ethernet cable, you'll need to gently press down on this tab to get the connector to release the cable.
Your Ethernet adapter should come with a USB and Ethernet cable. However, you can replace these cables if they aren't long enough or use an Ethernet cable extender if you need more reach.
Once you have connected the Ethernet adapter, finish the setup process by opening the Google Home app. This needs to be on a phone or tablet logged into the Google account you use for your Chromecast. The app will prompt you to follow a few steps to establish a connection.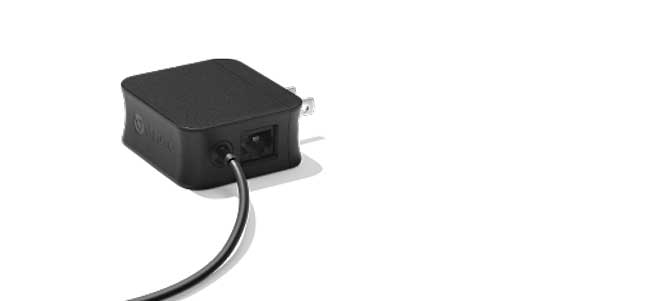 ---
Method #3: Travel Router
A travel router can help you set up an alternate Wi-Fi connection for your Chromecast. There are different ways of using a travel router to stream content with a Chromecast.
Because there are many different makes and models of travel routers, it's essential to review the features of other products before choosing a travel router.
Capabilities will vary from one product to another, and these methods might not work with all travel routers.
A travel router allows you to connect to public Wi-Fi networks. You can, for instance, use a travel router to stream content with a Chromecast over the complimentary Wi-Fi when staying at a hotel.
You can also subscribe to a mobile or internet provider with a hotspot network and use your travel router to stream when you're near a hotspot.
In theory, if your home is close enough to a local business with free Wi-Fi, you could use a travel router to connect to their network.
However, keep in mind that public Wi-Fi connections can be slow. Plus, you shouldn't share sensitive information over a shared connection.
How To Use a Travel Router
There are other ways of using a travel router. Most travel routers have a client mode that allows you to connect the device to a non-wireless router to create a Wi-Fi network. If you're running into technical issues with your router, the client mode can be a convenient fix.
Client Mode
You can also use the client mode if you only have access to a wired connection and don't have an ethernet adapter. For instance, while most college campuses have a Wi-Fi network, the wired connection available in your dorm room is usually much faster.
Plug your travel router into this wired connection. Next, you'll be able to set up a private Wi-Fi network which will provide you with better speeds to watch content on your Chromecast.
Repeater
You can also set up your travel router as a repeater that extends your Wi-Fi network range. If you have problems with Wi-Fi reception, placing a travel router halfway between your router and your Chromecast could fix this problem.
Portable Hotspots
Lastly, you can find travel routers that act as portable hotspots. You'll need a monthly subscription for this service, and some plans limit how much data you can use. The concept is similar to the mobile hotspot available with your phone plan. Still, a travel router gives you a faster and more reliable connection.
Note that your connection speed can vary. Your travel router will connect to a mobile network, and not all networks have the same coverage. Plus, streaming shows and movies can quickly use up your data plan if you got a travel router with a data cap.
The exact steps to follow to use these different methods will vary depending on the travel router you decide to use. Once you have your travel router set up, connect your Chromecast to your TV and to a power source, and visit chromecast.com/setup to get started.
You'll have to log into your Google account and follow a few steps to connect to the Wi-Fi network you created with your travel router.
Travel routers don't allow you to use Chromecast without Wi-Fi. Still, these devices give you access to different methods for accessing or extending a Wi-Fi network.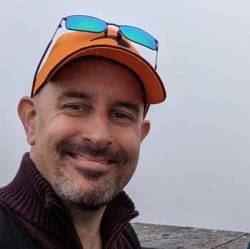 Latest posts by Tim Wells
(see all)