Stop me if this sounds familiar: I have way more things that need an HDMI port than I have HDMI ports themselves.
HDMI ports connect your TV to just about everything, from cable boxes to AV receivers, Streaming devices and game consoles to soundbars.
But it's frustrating to crawl behind your entertainment center to swap an HDMI cable from one device to another.
Whether you've run out of HDMI ports for the gear you have, or whether you want one source to play on multiple TVs., there's a simple solution.
You'll either need an HDMI splitter or an HDMI switch.
But what's the difference?
In this article, I'll cover what the difference is between an HDMI splitter and an HDMI switch, and when I use each.
Let's get started!
---
What is an HDMI Splitter?
As the name suggest, HDMI splitters "split" a single HDMI input into multiple HDMI outputs.
You'll use this when you want to run a single video source on multiple displays.
The way it works is a single HDMI input cable goes into the splitter box from your Blu-ray\DVD player, game console or streaming device. That signal then goes out to multiple TV's or monitors from the HDMI cables.
Splitters are commonly named by how many inputs and outputs they have. For example, an HDMI splitter with one input and three outputs is a 1 x 3 (one by three).
It's common for splitters to have the input on one side and outputs on the other, although that's not always the case, as you can see in the image above.
Finally, splitters are either active (powered) or passive (not powered). In general, an active splitter will have less signal degradation and will be able to support a longer cable length than a passive splitter.
The splitter's design may also affect how you wire your entertainment center, depending on the layout of the ports.
---
What is an HDMI Switch?
An HDMI switch is the opposite. It allows you to connect multiple HDMI sources to a single TV or monitor, and switch between them.
For example, you can connect a cable box, Beelink GT-King Pro Android box, and TV to the HDMI switch, then select which device displays on the TV.
Some HDMI switches may include a remote control, but many will automatically switch to an input whenever it senses power to that particular device.
Labeling for the HDMI switch is opposite to the HDMI splitter. For instance, a switch with five HDMI inputs and one output is a 5 x 1 (five by one) HDMI switch.
Finally, as with splitters, an HDMI switch can be either active (powered) or passive.
---
HDMI Splitter vs. Switch: When to Use Each
Depending on how you want to use it, there are times an HDMI splitter works best and others when an HDMI switch is a better option.
Some manufacturers even make devices that are combination splitter and switch, although those are usually more expensive.
When to Use an HDMI Splitter
HDMI splitters are an excellent option when sending a signal to several TVs. The setup allows you to watch the same program regardless of where your TV is placed.
Use an active HDMI splitter instead of a passive one when interference is an issue due to long cables or connecting over two devices. Active splitters ensure your visual and audio are clear.
When to Use an HDMI Switch
When connecting several devices to a TV that doesn't have enough ports, use an HDMI switch. A switch offers you more ports for connecting your devices.
Some HDMI switches will let you get around HDCP protection, which is useful if you want to record video or take screenshots on a protected device, like a Fire TV.
As long as the switch is capable of the same HDMI protocol as your devices, you won't need to upgrade your switch when you bring a new device home. We'll cover checking for the right HDMI protocol in a later section.
Active HDMI switches also block interference better, and have less signal degradation so you get a clear video signal.
---
Features to Look for in an HDMI Splitter
Here are considerations you need to make when selecting any HDMI splitter.
Number of Outputs
While HDMI splitters have different output port numbers, manufacturers label most as 1:2 or 1×2. This means one input port and two output jacks.
If you have three or more TVs, you will require a splitter with over two outputs. Some HDMI splitters offer up to 16 output ports for specialized setups.
Cable Length
The cord length counts towards several things, so consider how short or long the cable on your preferred HDMI splitter model is. Short cables can limit the distance between the splitter and connecting devices.
Long cords are good, but make sure you keep the cable under 25 feet (7.6 meters) to keep the signal from degrading. But even that may be pushing it if you are streaming 4K videos.
Resolution
Have your preferred image quality in mind when selecting an HDMI splitter. A popular resolution today is 4K and many streaming devices come with 4K support.
If you want to connect a device such as the TiVo Stream 4K to two 4K televisions, you'll need a splitter that supports 4K. Otherwise, you'll only receive Full HD.
HDMI Version
There are multiple HDMI specifications and versions, each offering distinct features. HDMI 1.4, for example, supports Audio Return Channel (ARC), and HDMI 2.1 supports Dynamic HDR.
The HDMI splitter model you want should show the version it supports.
As a general rule, for 4K resolution, you'll need support for a minimum of HDMI 1.4, which supports 4096×2160 resolution at 24 Hz, or 1920×1080 (1080p) at 120 Hz.
Power Options
You can categorize HDMI splitters by their powering options. The amount of power also determines the splitter's resolution over a covered distance.
Many HDMI splitters don't have a power supply and require an external power source.
This can be a regular power cable that plugs into a wall outlet, or a USB cable, which offers more flexibility. However, USB powered units are usually less reliable and better for short distances only.
HDCP
High-bandwidth Digital Content Protection (HDCP) is a mechanism built in modern HDMI video devices. The mechanism protects video videos from illegal copying.
Make sure that the splitter you're looking at supports HDCP. Otherwise, all you'll see is a black screen.
Refresh Rate for Gaming
Refresh rate usually goes hand-in-hand with the resolution. For example, just because a splitter is 4K compatible, doesn't mean it'll play video at the refresh rates you want. Especially for gaming or sports, a low refresh rate will cause stuttering.
Many 4K HDMI splitters support 30Hz, a good enough rate for regular video. You're better off choosing a 4K splitter with 60Hz for console gaming, especially for PS5 or PS4 Pro.
OREI 1x4 4K HDMI Splitter
Split 1 HDMI Source to 4 Identical HDMI Display
Supports HDCP 1.4
HDMI 1.4/1.3/1.2
Supports Video resolution up to 4K x 2K, 1080p
We earn a commission if you click this link and make a purchase at no additional cost to you.
---
Features to Look for in an HDMI Switch
Here's a list of things to keep in mind when buying an HDMI switch.
Number of Inputs
If you wish to connect two streaming devices or gaming consoles to your TV, look for a 2 x 1 HDMI switch. Power users who require connecting over four devices should look for switches with more inputs.
A good rule is to purchase a switch with one or two extra HDMI inputs than you need. You can add another device, such as a laptop or camera, and will not have to plug and unplug HDMI cables.
Passive or Active (Powered) Switch
Passive switches don't require an external power supply to work. These units are usually small and only have two or three inputs. Passive switches are easy to install because you don't need to worry about being need a wall outlet.
On the other hand, larger switches with more inputs will usually have an external power outlet. That's a better choice when you need to run a long cable, or if your HDMI device doesn't output a powerful signal.
Resolution
Some later model switches support HDR and 4K streaming for an improved viewing experience. However, your TV doesn't have to support all these resolutions. 4K HDMI switches can stream 1080p, 720p, and 360p.
Further, you might not get a 4K HDMI switcher at the lower budget price level. Note that some switches offer a picture-in-picture function so you can stream two devices at the same time.
Other Supported Technologies
Apart from image resolution, check whether your HDMI switch can support other audio and video technologies.
These include:
Audio Return Channel (ARC and eARC)
HDR and Dolby Vision
Audio formats such as Dolby ATMOS, DTS-HD Master Audio, and Dolby Digital
HDMI version and specification
HDCP
3D video
Automatic or Manual Switching
As the name suggests, a manual HDMI switch allows you to manually change from one input to another using an IR remote control, or, more commonly, a button on the switch itself.
Automatic switches detect the active input source and switch to it automatically. Some brands come with both automatic and manual switching.
As convenient as it sounds, I actually prefer the control of a manual switch over the convenience of automatic switching.
Compatibility
Not all HDMI switch devices will work with all gaming or streaming units out there. If the switch you're looking at has a list of supported devices, definitely check that out before purchasing it.
A good rule is to choose an HDMI switch that supports an extensive range of devices. This ensures you'll not make extra purchases when you add or change devices in your setup.
Other Features
Finally, as with everything, the build quality of the device also plays a critical role. Compact HDMI switches will help save space while a durable device will last a lifetime.
Some HDMI switches have LED indicators for each port, which remind you of which port is active. A warranty is also a critical consideration in case you run into an issue with the product. Warranties may run from 1 year to 3 years.
Some HDMI devices can do the functions of both a switcher and splitter, however, you'll normally end up paying a premium for that extra functionality. Separate splitters and switches may be better in the long run.
GANA 3x1 4K HDMI Switch
3 HDMI ports in and 1 out for various HDMI devices
HDMI 1.4 Compatible
Supports resolution up to 4K (3840 x 2160p)
We earn a commission if you click this link and make a purchase at no additional cost to you.
---
FAQs About Splitters and Switches
Can HDMI be split into 2 monitors/TVs?
Yes.
Any HDMI splitter will split the HDMI signal into two displays. However, there are HDMI splitters that allow splitting the signal to up to 8 and more displays at once.
Does an HDMI splitter/switch reduce quality?
HDMI is a digital signal, so its quality shouldn't be affected when using a splitter or switch, however cable length is a big factor.
If your unit degrades the HDMI signal:
The HDMI splitter or switch is defective;
The unit might not be compatible with the devices you've hooked up;
HDCP may act up because the switch or splitter is a third-party or pirated device not approved by HDMI holders;
The HDMI cable might be damaged;
Or, the connection between your unit and other devices is loose.
Do HDMI splitters/switches cause lag?
As long as you have a good, active splitter or switch, you shouldn't experience noticeable lag. Units that run on an external power supply usually have enough power to prevent lags. You'll also want to ensure that your splitter or switch supports 4K resolution through HDMI 2.0.
Do HDMI splitters/switches need power?
Passive units will usually run on the little power in the HDMI cable and they don't require external power to run. These units are more energy-efficient as long as the source provides enough power and will not transmit the signal very far.
Some switches and splitters function properly with a steady supply of power. Powered HDMI devices can transmit quality signals very far.
Are they all the same?
No.
An HDMI splitter splits an HDMI signal input into several signal outputs, mirroring the HDMI signal across multiple displays.
An HDMI switch connects multiple HDMI signal sources to one output device. The connection lets you switch between multiple devices connected to a single display.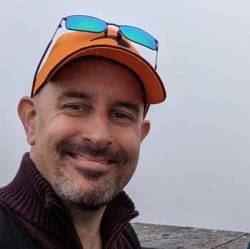 Latest posts by Tim Wells
(see all)